MOT-150N Ultrasonic Cleaner
Product Code: MOT-150N
70.000,00 kn excl. VAT 87.500,00 kn
Out of stock
TECHNICAL DATA
Capacity: 150 litres
Internal dimensions: 700 x 480 x 540 mm. (excluding auxiliary tank)
Useful measurements: 670 x 415 x 335 mm.
External dimensions: 1270 x 825 x 945 mm
Weight: 175 Kg
ELECTRIC CHARACTERISTICS
• Power supply: 230 V /400 V
• Heating element: 3750 W
ULTRASOUND CHARACTERISTICS
• Ultrasonic power: 1700Wp (3400 W p-p)
• 1 Ultrasonic generator with 1700Wp (3400W p-p) output power
• 1 submersible emitter built in AISI 316 stainless steel,2.5 mm, with 34 PZT (lead zirconate titanate) piezo-electric transducers with aluminium alloy body.
• Working frequency: 40 KHz sweep system ± 2%.
CONTROL PANEL
• Integrated control panel with 7" TFT screen.
- Time and temperature control.
- Movement button (up - down - shaking).
- US button (connect - disconnect), direct ultrasonic alarms and selectors.
- Heating button (on - off).
- WFS/Filter button (optional) (on - off).
- START-STOP button (connect - disconnect cycle).
- ON-OFF button (on - off control).
- Capacity to work with 22 programmable cycles, protected by password.
- Temperature control through PT100, over temperature safety and breakage sensor.
- Weekly programmer, for preheating and turning off the machine.
- Level control.
- IP65 protection.
FINISHES AND ACCESSORIES
• AISI 304 stainless steel tank, 2 mm thick
• Exterior steel panelling with a special anti-fingerprint finish. Easy to clean.
• K-Flex Duct Net thermal and acoustic insulation, 20 mm. • Reinforced pneumatic platform for loading and immersing. Maximum load capacity: 60 Kg
• ½" water inlet ball valve and a 1" one for drainage
• Silentblock legs, adjustable in height
• Heat-insulated stainless steel end-of-day lid
• Compressed air gun to dry parts
• Integrated system to separate lubricants and oils. Removes residue from the surface of the ultrasound tank, keeping the cleaning equipment in perfect condition
• (Optional): filtering system (stainless steel filter with a polypropylene/polyester bag) for residue and mud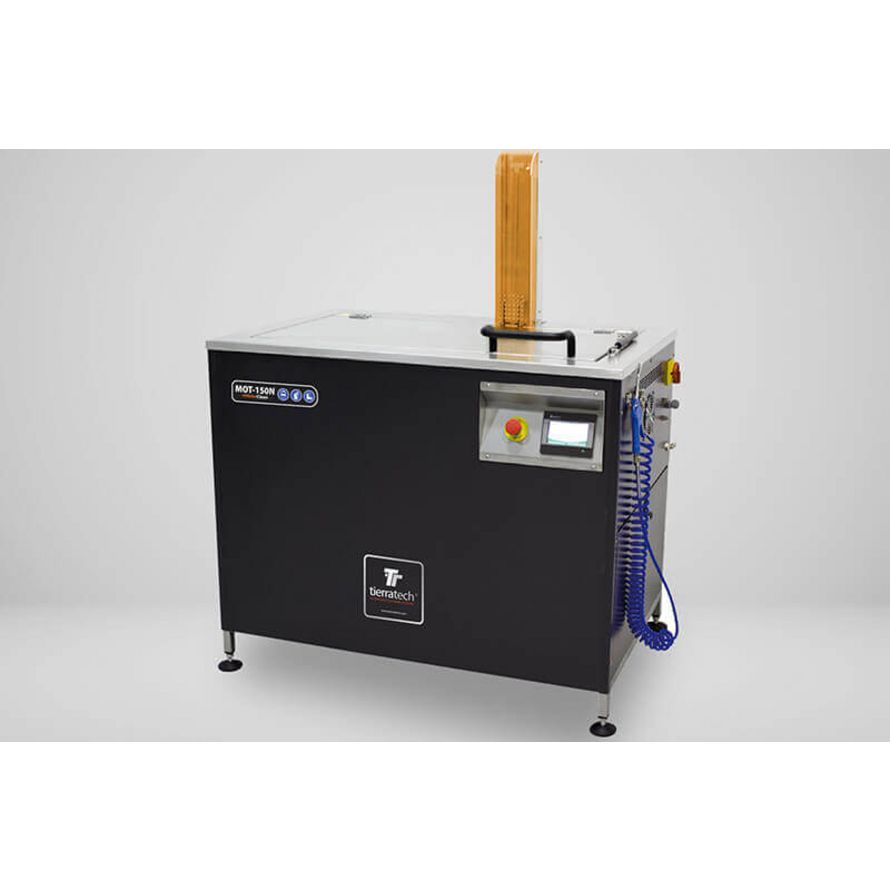 ---
---
Let Us Help You
Please feel free to contact us for consultation, demos, quotes, and general questions.
Contact Us